Welcome to Advanced BMI Weight Loss Surgery in Lebanon.
Advanced BMI Weight Loss Surgery Lebanon Team includes, weight loss surgeons, endocrinologists, a gastro-enterologist, an experienced nutritionist in weight loss nutrition, an expert physical trainer, a psychologist who understand the challenges of long-term weight loss, and a bariatric surgery clinical coordinator with extensive experience helping patients get through the process of weight loss surgery.
At Advanced BMI, we offer free Informational Seminars, open to the general public. Each seminar provides prospective patients with information about weight loss surgery and the Advanced-BMI Weight Loss Programs. Our team will describe details of the surgical procedures, our comprehensive program, the medical effects of untreated morbid obesity, and the lifestyle changes that accompany weight loss surgery. There will be time allotted for questions and answers.
Read on to learn more about Advanced BMI Team:
Dr Nagi Jean Safa, Certified Weight Loss Surgeon
Dr Abdo Alam, Pulmonologist, Critical Care Medicine
Dr Georges Ghoussoub, Dermatologist
Dr David Abou Khalil, Physical Therapist
Jessica Daou, Certified Nurse, Laser Technician
Nathalie Nehme, Patient Coordinator
Meet with Dr Nagi Jean Safa in LEBANON. Renowned Bariatric Surgeon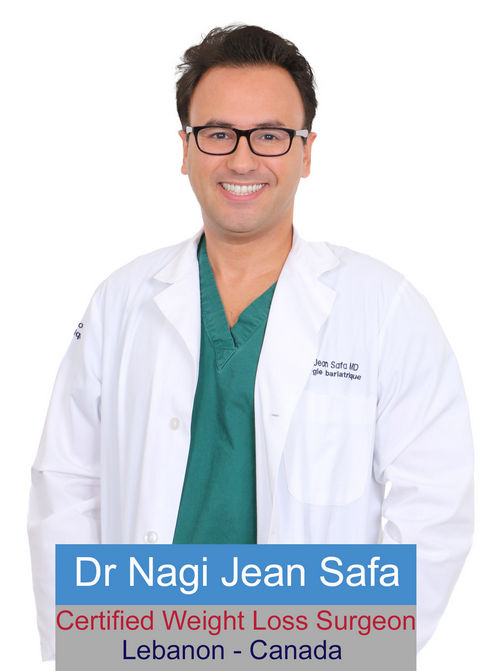 Certified Weight Loss Surgeon – Former Surgeon at the University of Montreal – Author of books about weight loss surgery.
Dr Nagi Jean Safa has dedicated his professional career to the treatment of morbid obesity. He is a Metabolic and Bariatric Surgeon (Weight-Loss Surgeon) at the Advanced BMI in Lebanon and at the Sacred Heart Hospital of Montreal, and holds an academic appointment at the University of Montreal. Furthermore, he is involved in the training of residents and surgical fellows on how to perform advanced laparoscopic obesity surgery. Throughout his practice, Dr Safa performed more than two thousand laparoscopic procedures, including Roux en Y gastric bypass, sleeve gastrectomy, gastric banding, gastric plication and many other abdominal surgery procedures. Dr Safa holds professional memberships with:
Read More about Dr Nagi Safa
Search for Dr Safa on Google
Type of Procedures
Sleeve
Bypass
Plication
Switch
Male performing weight loss surgery.
Female performing weight loss surgery.