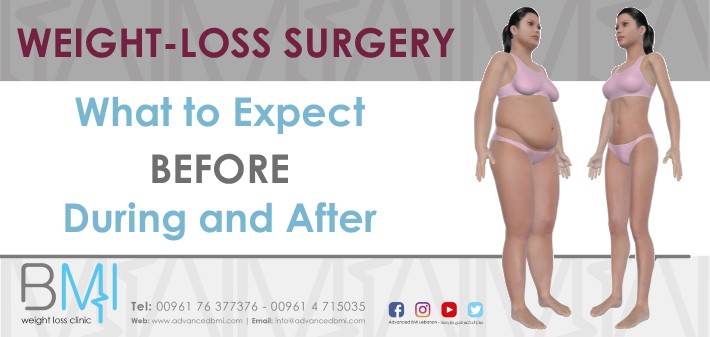 Weight-Loss Surgery: the first Consultation
The very first step towards bariatric surgery is the consultation itself. You may have considered having the procedure done, but before you finally discuss it with an experienced and qualified bariatric surgeon, you are not sure yet. When you come to Advanced BMI for consultation, our weight-loss surgery team will first evaluate whether or not you are eligible for the surgery.
If you meet the criteria for weight-loss surgery but are still unsure of what bariatric procedure is right for you, we will also give you all the information you need regarding the surgical options available for you. Once you have decided on the right procedure, we will then schedule you for surgery.
If you don't meet the criteria for surgery, we will also walk you through all the other non-surgical weight-loss methods that can help you lose and maintain weight.
Before Surgery
Between a few days and a week before surgery, you will visit the clinic to discuss the procedure again and also talk to your surgical team. The weight-loss surgery team will guide you through what will happen before and after the surgery and ensure that you fully understand the procedure.
During this time, we encourage you to talk to us about any concerns o you have regarding the surgery. Please ask the team any single thing you feel you don't understand about the surgery. Our nutritionist will determine your dietary needs and put you on a special diet to ensure that the procedure goes on smoothly.
The anesthesia staff will also be able to asses and address any anesthesia issues or questions you may have.
Surgery Day
On your scheduled day for surgery, our Bariatric Surgeon, Dr. Safa will guide you throughout the surgery and answer any questions you may have. At Advanced BMI, we use a minimally invasive laparoscopic technique that promotes faster healing, minimal pain and very little scarring. Depending on what bariatric procedure you choose, you may spend a night or two before you are released to go home.
The Recovery Process
The recovery process will vary from patients but will usually depend on the type of weight-loss surgery performed. We advise patients to rest for the first week or two to allow the body to adjust and regain energy. With gastric bypass and gastric band procedures, patients are usually able to return to work within two weeks.
Patients who have undergone sleeve gastrectomy or the Duodenal Switch usually need more time, say, four weeks before they can return to work.
At Advanced BMI, we give our patients personalized support to help them in their recovery process as well as their long-term weight-loss.
Life Post-Surgery; Do's and Don'ts
After surgery, there are things that you should do and things that you should avoid in order to ensure that you recover fully and maximize your weight-loss potential.
Dos
Exercise with moderation. Although we encourage our patients to begin exercising as soon as they can, we also advise them to keep it light and most of all; listen to their bodies. If you feel pain when exercising, stop and catch your breath. Avoid swimming or lifting heavy objects until after six weeks post-surgery
A regular exercise routine post-recovery will enable you to stay fit and help you maintain your weight loss. Exercising will also improve your cardiovascular health.
It is advisable for surgical patients to stick to fluids for the first few days following surgery.  Afterwards, you can begin taking soft meals in order to regain your strength.
Take your Vitamins and Mineral supplements
We advise all out patients to take their recommended micro-nutrients (vitamins and minerals) and dietary supplements every single day after both the surgery and recovery. This will help them avoid nutritional deficiencies that may undermine their recovery or compromise their health in the long term.
Follow the Prescribed Diet
People who have undergone bariatric surgery are advised to stick to a strict diet that will not only enhance their weight-loss in the long term but also enable them stay healthy.
Don'ts
Avoid Alcohol Intake for some weeks
People who have undergone weight-loss surgery develop alcohol intolerance and may experience the effects of alcohol much faster. This refers to both the physical dangers as well as the health hazards including the risk of developing liver diseases. We recommend that you be a lot more careful with alcohol after surgery.
Don't try to Conceive the first year
Getting pregnant within less than a year after undergoing a weight-loss surgery is not advised. This is because pregnancy reverses or hinders your weight-loss. You may regain all the weight you have lost and more. Women who have undergone bariatric surgery are advised to wait a year or 18 months before getting pregnant.
Research shows that pregnancy complications are significantly reduced after bariatric surgery. This means that if you conceive after this period, you have less risk of developing pregnancy related complications including; preeclampsia, gestational diabetes, high blood pressure , miscarriages or still births.