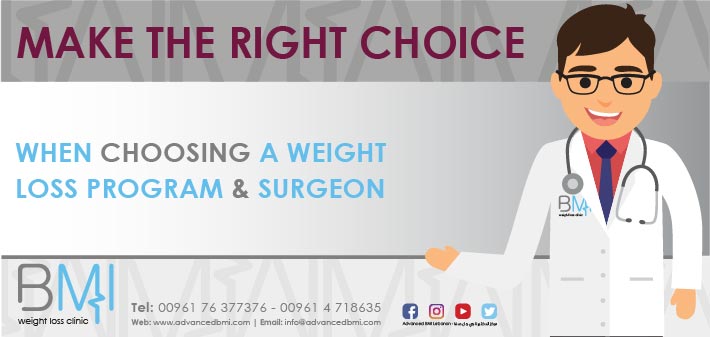 According to statistics, at least one in three people is trying or has tried a weight loss program to lose weight.  This is just the reality in a world where more than half of the population is either obese or overweight. In Lebanon, this weight issue is made worse by cultural norms and lifestyles that encourage sedentary or inactive lifestyles.
Although obesity affects everyone, Lebanese women are more affected than their male counter parts because of issues like childbirth and cultural perceptions of women's' occupations in and outside the home.
The truth is that weight affects your health and well being.  Being overweight or obese puts you at significantly more risk of developing Type 2 diabetes, kidney problems, heart conditions, high blood pressure, sleep apnea, and gastrointestinal acid reflux disease (GERD) etc than the average "normal" weight person.
Looking good is just a secondary benefit of losing excess weight. The primary reason why you should lose weight if you are obese or overweight is to become healthier and reduce your chances of developing obesity related complications.
Surgical weight loss in moderately and severely obese patients has also proven to be very effective in reversing or improving obesity-related complications like diabetes and high blood pressure.
However, it is also true that losing weight is always easier said than done especially for severely and even moderately obese patients. If you have tried losing weight through numerous diets and physical exercises but see no significant results, bariatric surgery may be a solution for you.
Are you considering bariatric surgery as treatment for your obesity?
Finding the right weight loss program for you is very important in the effectiveness and success of your weight loss journey. While there are countless options out there, making the right choice is not quite easy.
But if you take your time and do your research, you will be sure to find a good weight loss program that will help you attain your weight loss goals. Below are some of the things you should look out for.
The reputation of the Bariatric Clinic
Does the bariatric facility have qualified and experienced bariatric surgeons and a bariatric team? Do some research and make sure that the bariatric weight loss program you choose has performed many successful weight loss surgeries. You want to ensure that the people you trust your health with are qualified professionals.
At Advanced BMI, Lebanon, we have a great bariatric team led by  Dr. Jean Nagi Safa; who has performed more than 3000 surgeries. He practices bariatric surgery here in Beirut, Lebanon and in Montreal, Canada.
A Focus on Sustained Weight Loss
Look for a weight loss program that is not only focused in performing the surgery for you, but also interested in ensuring that you keep weight lost off in the long run. A bariatric program should be able to guide you and come up with a plan that will help you not only to lose weight but also offer you support after the surgery.
At advanced BMI, we believe that it is a waste of time and money to  have surgery done and lose a lot of weight if the weight loss is not long term. We are commited to providing our patients with the resources and support they need to continue maintaining a healthy weight post surgery.
A reasonable Personalized Weight Loss Program

A good bariatric clinic should be able to provide patients with personalized diets before and after the surgery to help them transition from pre-surgery to a long term lifestyle and diet change.The dietary standards should be reasonable and personalized to cater for the needs of individual patients before and after surgery.
At Advanced BMI, we tailor diets for our patients using the DASH diet while strictly adhering to standard dietary guidelines in Lebanon. Our goal is ensure that our patients get a balanced diet in the right food portions and types.
A Realistic and Personalized Exercise Plan
We always emphasize that physical exercise is a significant requirement in maintaining sustained weight loss after a bariatric surgery.  But we also recognize that there is no one type of exercise that fits every patients.
We strive to help our patients come up with physical exercise plans that correspond to their specific needs, preferences and fitness goals.
At advanced BMI, we provide our patients with different options in activity plans in order to ensure that every patient finds a physical exercise plan that they will be able to stick to.
When looking for the right surgical weight loss program for you, take your time. Bariatric surgery isn't just something you wake up and decide to do one morning. Do enough research so that you can find a good bariatric surgeon and facility.
For more information about obesity, weight loss or bariatric surgery, contact us today. Feel free to ask any questions.
At Advanced BMI, we are always excited to help you in your path to a lighter more confident you and a healthier life.